One interviewer wrote this introduction to Èzili Dantò's Work
"Èzili is a griot in the best tradition of Afrikan chroniclers. She brings the Black liberation narrative. No Liberal dis-empowering sob story on Haiti. She says revolution is a process. We fight from one generation to the next never becoming what we fight against. We are the Afrikans." (A few more endorsements, here and here.)
Èzili Dantò is an internationally recognized human rights attorney, award-winning playwright, performance poet and cultural activist. She's a master Haitian Vodun dance teacher and choreographer. More than an academic or theorist Èzili Dantò is a practitioner who specializes in bringing to application and promoting Black economic empowerment, liberation, history and self-determination. Attorney Èzili Dantò rejects profit-over-people values, the corporatocracy and corporations having more rights than human beings. She represents the inventors of human rights to soundly reject the veto power that the five (5) white Eurasian nations have over 192 nations on planet earth and advocates for the United Nations to recalibrate or go the way of the League of Nations.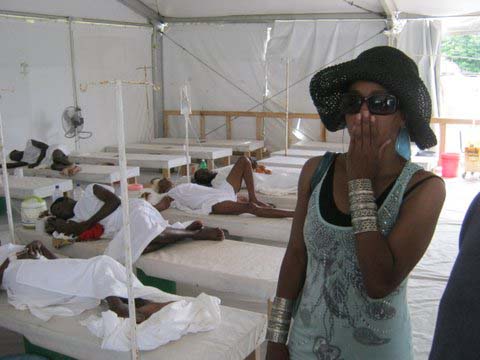 Èzili Dantò was born in Port-au-Prince, Haiti and raised in the United States. She is a Haiti historian, scholar, political activist as well as a most sought after social commentator who has appeared on HuffPost Live, Aljazeera, RT TV, CrossTalk, SophieCo, The Real News, The Roc Newman Show, The Carl Nelson Show and, despite writing the non-colonial narrative, has also been quoted in the New York Times, Washington Post, and other major media outlets on international and human rights issues. Èzili Dantò is a member of the New York and Connecticut bars. Before her Haiti work, she was an entertainment attorney representing Grammy award R&B and Hip Hop artists in the music, recording and film industry.
Èzili Dantò founded the Haitian Lawyers Leadership Network (HLLN) in 1994 when she was legal advisor to Haiti's first democratically elected president and the FreeHaiti Movement in 2004 after the second Bush regime change against President Jean Bertrand Aristide. Èzili Dantò created the Zili Dlo Clean Water, Skills Transfer, Solar Power for Everyone in Haiti, a 501C3 non-profit in 2010 after the apocalyptic Haiti earthquake. Zili Dlo won the Global Energy Award in 2012 for best innovative and green energy project in Haiti.

Èzili's most recent endeavor is Zili Design, a for-profit fashion and merchandise line to support the nonprofit works and promote indigenous art-with-soul apparels and styles.

Èzili Dantò is the recognized leading and most trustworthy international voice in Haiti against U.S. imperialism, neocolonialism, neoliberalism, its villain-hero pathology, scarcity values in an abundant world, arsonist-fireman shticks, free trade fraud and weaponized charity. Her advocacy writings, human rights work, Haiti news and Haiti news analysis regularly reaches over three million followers. She was once commissioned by the President of Haiti to write a judicial reform agenda for Haiti and numerous judicial reform projects. (See, Three Èzili solutions for a New World.)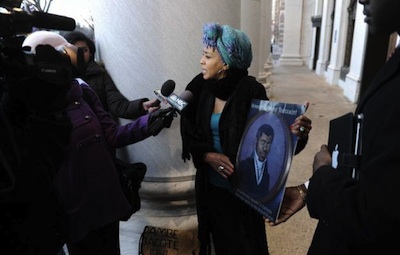 Èzili Dantò has published columns and research articles in The Progressive, Global Research, Black Agenda Report, San Francisco Bay View, LA Progressive, Op-Ed News, Open Salon, and Pacific Free Press and has essays in several anthologies. Èzili Dantò is the author of 10 plays and two book series. She regularly conducts Haiti teach-ins on the non-colonial narrative on Haiti centering on Haiti's wealth, natural resources, revolutionary culture, Vodun spirituality and her expression of this through the VodunJazzoetry performance productions.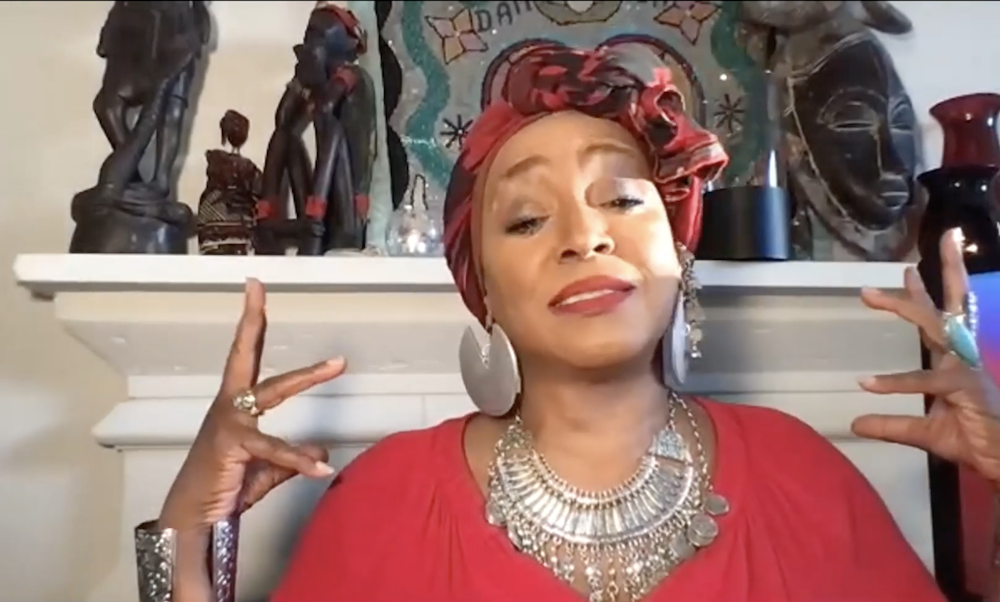 Èzili is a writer who does not close her ears to the lies and ignorance of the most powerful and educated in our society. She writes plays about her legal experiences and how society's profit-over-people values demeans our humanity, dignity, well-being, mental and physical health, promotes neo-slavery in the work place and destroys the inner landscape of colonized Black and Brown peoples – especially poor workers, immigrants, Black women, girls and boys. The Red, Black and Moonlight series is a dramatic memoir based on her experience in Haiti on the first return since she moved to the U.S. as a young child. Vodun Woman is a published collection of her Vodun Jazzoetry performance poetry. After the earthquake, Ms. Dantò wrote the Jazzoetry performance piece: Seismic Shift. The Bwa Kayiman and Desalin plays, celebrate the warriors and women combatants in the Haitian revolution.
In January of 2018, Èzili was asked to write and perform a new piece for the Dramatists Guild of America's Voices from the Haitian Diaspora.

The Dramatists Guild of America is the oldest professional organization for playwrights, composers, and lyricists working in the U.S. theater market. Èzili wrote and performed, along with her young 5-year old niece, Alana, an excerpt from the new multi-media performance piece titled: "How Do You Tell This Story to a Five Year old: The United Nations is not Potty Trained." The theatrical piece dramatized how the United Nations brought the cholera epidemic to Haiti which has killed over 10,000 Haitians and made one million Haitians sick.
Èzili Dantò, was featured as a leading Haiti scholar and historian in the documentary 1804: The Hidden History of Haiti.
In November 2018, Èzili was an honoree at the Connecticut Women Hall of Fame. Èzili is a member of Poets and Writers and the founder of Èzili Publishing to self publish her works, interviews, videos, documentaries and e-courses.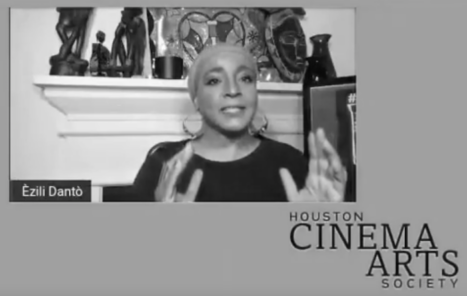 ***
For more, go to Èzili Dantò Youtube Channel, Video Resume, Èzili Dantò long bio, and website at https://ezilidanto.com/. Support Èzili on Patreon, Paypal, Facebook, Twitter, Instagram. Join the FreeHaiti Movement page on Facebook. Buy Zili Designs. See also: The Personality of Goddess Èzili Dantò of FreeHaiti