Ayiti Bòn nouvèl 150 doktè ak medsen fèy Ayisyen met ansanm dekouvri remèd pou trete kowona

This video is in Haitian. Here's a brief English summary:

"We don't need to wait for some white to come give us synthetic medicine, we've got local medicinal plants to cure our people in Ayiti, just like Madagascar… There's no need to look to the stranger for a cure, we have it at home…Let's give value to what we have at home….We will form a synergy with our traditional doctors, phytotherapists and conventional doctors in Haiti to assists our people…"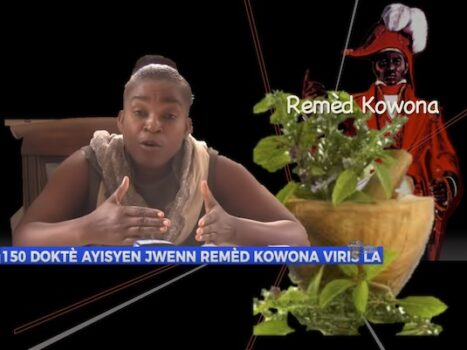 100,000 people have died in the United States from Covid19 since March 2020. If these stark and sudden deaths visited the most powerful and technologically advance nation on planet earth, how will it affect what is often noted as the most impoverished nation in the Western Hemisphere? To date, the death toll is less than 30 in Haiti. However, the U.S. is deporting Covid19 positive Haitians at a steady clip. Dr. Jean William "Bill" Pape, an Anthony Fauci-Bill Gates-Clinton Foundation death partner for over 40-years in Haiti, have used the local colonial Haiti media to launch their scare usual tactics, predicting 1500 deaths per day in Haiti and pushing the terrible idea that only synthetic medicine, untested vaccines and ineffective ventilators are the solutions to Coronavirus in Haiti. This, despite the evidence in the U.S., with the high numbers of deaths.
In this video, Haiti traditional plant experts present their natural, non-toxic, non-invasive treatments. They note that there is a study out showing that for every 10 people put on a ventilator in the U.S., 9 die. They do not wish to use the failed Western-U.N./WHO protocols in Haiti.
150 Haitian phytotherapists, conventional doctors, herbalists and nurses have created a network to consult, at a distance and sent their three plant-based treatments cocktails, to local Haitian in Haiti who are experiencing the major symptoms — fever, respiratory problems, dry cough and aches – of Coronavirus. Some of the plant-based cocktails include a blend of Armwaz, Aloe Vera, Dèyè Do, Jenjanm, Asosi, eucalyptus... elatrye).
The conventionally educated Haiti doctors unite with Haiti phytotherapists, herbalists (remèd gran mèr, remèd natirèl) to create traditional plant-based treatments. In this press conference these Haiti herbalists and phytotherapists speak about their three plant base medicines to treat each of the major Corona virus symptoms … They challenge the Haiti government to give them 100 Covid19 positive people to publicly prove the efficacy of the herbal and plant-based medicines they've use to treat many people already. They explain recovered patient testimonies may be found at their Youtube Chanel at Ayiti Tou Nèf — For those in need of help or who would like to support this initiative, in any way: Call for further info at Natcom 011 509 – 33 10 03 30 or  Digicel 011 509 – 31 62 03 30 (both also on Whatsup for easy messaging.)
***
As a bonus, here's another Haitian Phytotherapists with solutions for the people and a documentary detailing the effectiveness of Artemisia Annua, the main ingredient in Madagascar's CovidOrganics and some of Haiti's cocktail therapies. The phytotherapists of Haiti say there are three other plants they are using in addition to the Sweet Wormwood that sufficiently helps cures Covid19. I translate and add the ingredients noted for our non-Haitian speaking friends to be sure we each help the other with information to help self heal ourselves, family and friends. I continue to add to our knowledge base at the Coronavirus photo album at FreeHaitiMovement on Facebook, so check it often at this link, here.
Yon lòt Tretman kont Coronavirus in Haiti – Video: https://www.facebook.com/ezili.danto/posts/10158096345486343

Anti-Covid19 plant base treatment from Haiti's herbalist: Dr Inesse Joseph, Ethno-phytotherapist and researcher (Etno-phytotherapeute chercheur.)
The ingredients include 80% Armwas/Armoise (Artemisia Annua= Sweet Wormwood) with 20% natural vitamin c, ginger, cinnamon, Star anise, curcumin, ginseng, et al). One bottle, Dr Joseph, explains in the video will last you for 4 to 5 days. Take a small shot like the cup in the video, twice daily morning and night.
For more information: Call Dr. Inesse Joseph: Call Haiti (011 509) + 37 65 12 92 or 34 10 78
***
Big pharma's sickness business or natural Artemisia Annua cures
https://youtu.be/OvC4uSYprU