BA Bò Kay Manbo Inan (#BwaKayiman 2021) #FreeHaiti post
The Aug 14 Earthquake reminds #FreeHaiti of Clinton Family Butchery | Join #FreeHaiti Aug 22, 2021 for a special #FreeHaiti Bò Kay Manbo Inan presentation … starting at 5pm today, FreeHaitiMovement/Èzili Youtube page.
Èzili Dantò's #Bò Kay Manbo Inan (Bwa Kayiman 2021) Note: Clinton Family Butchery In Haiti
⁠
This truth Senator Sansariq tells here in this interview will get us killed. (See video here). Senator Sansariq recalls how his U.S. visa was revoked when he refused to sell-out the country of his birth. And I, a lifelong U.S. citizen in 1994 Haiti, was simply marked for assassination by the U.S. Southern Command and Bill Clinton administration. I was mere "collateral damage." Unimportant to the resource plunderers and warmongers bringing De-MOCK-KKRACY everywhere. Destroying all in their paths on behalf of the white body supremacists' global One Percent.
⁠
Folks, I am using this video to introduce the August 22, 2021 Bò Kay Manbo Inan (#BwaKayiman 2021) teach-in for tomorrow. August 22, 2021 marks the 230th anniversary of the great Haiti Revolution which invented human rights for all, abolished slavery, direct colonialism, the European and white settler nation's human trafficking Triangular Trade, forced assimilation and created Ayiti within the 1492 Bringers of Doom white-bodied supremacists' "New World."

⁠I share a similar story to ex-Senator Bernard Sansariq.
⁠
Bill Clinton's Ambassador – Larry Swing – wrote a letter to the Minister of Justice to insist I be kicked out of Haiti. At that time, in 1995, I was working in Haiti as legal advisor to both President Aristide and John Exume, the then Minister of Justice. First, the U.S. embassy and U.N.-USAID minions hired, to their side, all the Haitian-American Lawyers I brought to Haiti to help with reforming the justice system after the first Bush family coup against Aristide. They were seduced with titles, monies and international rewards to leave local public interests and go work more lucratively for USAID, U.N. the NGOs and the DOJ against local interests. When I refused their bribes and job offers to work for the poverty-pimping U.N.-NGO cabal, Bill Clinton's US embassy (via Ambassador Larry Swing) wrote a letter to the Minister of Justice and had conversations with President Aristide saying I and the Haitian Lawyers Leadership Network (HLLN) I ran had a "CONFLICT OF INTERESTS" and would put $160 millions of US aid for justice reforms in Haiti in jeopardy if I stayed in my position in Haiti at the Ministry of Justice. I'd created HLLN in 1994 to bring into application the human, civil, cultural, and economic rights of Haitians living at home and abroad. Soon after I refused to work for U.S. repression on Haiti, the first hit was carried out to assassinate me at the El Rancho hotel where my room was shot up with high caliber machine-gun fire exactly where I would have been in bed asleep. That night, it was a Black U.S. colonel, who was at the meeting where the U.S. embassy planned the hit, who warned me not to sleep in the hotel room…It was the most terrifying experience.
⁠
To have no country. Not the one you where born in as that president abandoned you to promised-U.S. aid that would never get to the Haitian people and the U.S., where I was a naturalized citizen because my parent ran from the brutal U.S.-sponsored Duvalier dynasty dictatorship. Empire's minions did not want Haitian-Americans who were independent, not NGO-imperial stooges and worked for justice, to be successful in Haiti.
⁠
As head of HLLN, I was forced out of Haiti just as Aristide was given two Coup D'etats. It was for taking on the task of stopping impunity, corruption and injustice that Bill Clinton's ambassadors and imperial agents went to war to kill me. This is the untold but quintessential Haiti liberation story. If you're in Haiti to stop corruption, you'll find the U.S. and former enslaving nations only support corruption, the corrupt local white billionaires, their back collaborators and are godless, perversion and corruption uninterrupted to plunder Haiti resources and keep the Black Haiti masses in chaos, unending poverty, dependency and perpetual neocolonial domination.
⁠
Aristide, my client had little power to go against U.S wishes and would not see me for fear of more U.S. repercussions. I was abandoned. That rainy Haiti night in April 1995 when I was alone and marked for death by the number one superpower on planet earth, simply because I wanted sovereignty and justice for Desalin-Defile descendants, I vowed that night as I sheltered away from where paid assassins were sent to shoot-up my hotel room to kill me, I would live and be the imperialists' greatest terror. For Ayiti. For the people. For the Ancestors. With Èzili Dantò.
⁠
That was April 1995. Aristide never did pay me for the work I did in that time span, nor ever reached out to me until 9-years later, on the eve of a second Bush family coup d'etat against him in 2004. When I returned to the U.S., back in 1995, I did not know how to began the fight back. A lawsuit for U.S. ambassador's contractual interference seemed a waste of time. So I wrote the Kenbe La books and performed the Red, Black & Moonlight (RBM) one-woman show series. I learned self-reliance was all I had and the Ancestral Legacy I had to reach. Fortunately, the first play I performed – "RBM: Between Falling And Hitting The Ground" – won me a playwright fellowship and more acclaim. Not big, but enough to keep going.
⁠
I took the hammering, plus racism and misogyny, given by both countries whose leaderships failed me and stand today, with what I've made into the Èzili Dantò platform for justice and indigenous Haiti culture. Self-reliance, Ancestral Grace and ironically an outlier U.S. colonel, saved my life in Haiti.
⁠
So many crises we-Haitians have survived since the fall of the Duvalier dictatorship. Both personally and collectively.
⁠
Here, we are. Still surviving living in a hostile American Mediterranean.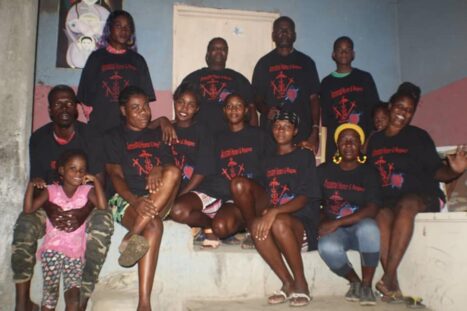 I've been thinking about what to say for August 22, 2021? How do we express the soul terrors we live through as indigenous Haitians but still be positive, productive – existing in both these national territories, U.S. and Hayti, to usher in a more just planetary paradigm?
⁠
I offer, on Sunday, August 22, 2021, a FreeHaiti teach in. (We'll start broadcast live, at 4:45 pm at the FreeHaitiMovement page on Facebook, and it will later go on our Èzili Youtube Channel, here. Please subscribe, thumbs up, share.)

I'll dig out the Red, Black & Moonlight performance. Show folks how I handled the brutal Haiti experience long ago. Maybe it will help or inspire some with a bit of direction as we face more geo-engineered earthquakes, more CoreGang of ambassador assassinations, fake aid, fake charity, fake benevolence and fake elections.
⁠
Check for the Zoom link if you wish to participate.
⁠
Senator Bernard Sansariq has been one of the very few non-misogynistic Haitian males, not bought by empire, who has witness to our Èzili struggle for a real New World in the Americas. We have differences in faiths, Bernard and I. I am not a Republican. I trust no white women or men or their systems. Bernard has more faith. I am a student of Desalin and I hear historian Dr John Henry Clarke who says there is NOTHING the white system does that's not about domination.
⁠
I've lived through and survived the brutality of two Bush family, Cheney mercenary, John McCain coup d'etat's in Ayiti. I am not a Demonrat either, certainly not after the Clinton returned of De-MOCK-kkracy or invasion in 1994 that was only to re-image the Duvalierists and their death squads as "Civil Society" for fake fig-leaf Duopoly elections to reign in Haiti, hide U.S. dictatorship. I've always fought the Leftist, passive aggressive Paul Farmer-type, Bill Clinton's Neoliberal Democrats. From literal assassination attempts by Bill Clinton's ambassador to white liberal NGO-UN kingpins perpetuating and spreading lies, innuendos and rumors within their tribe of supporters against Èzili's justice works, the white liberal fox has been a more of a deadly enemy than the Republican wolf. And you all know the Èzili Network denounced the wretched Obama within 3-months into his first term. But, as a strategist, I have made temporary alliances in the hopes of destroying both imperialist parties.
⁠
The folks who hate and rail against the 30+ years of Èzili Network's justice and cultural independence works don't walk in this Black woman's shoes. Have no idea what it means to be woman, free and Black with no country that is unafraid of your influence… I have and claim only one source of revolutionary power, culture and achievement: Ogou, Dantò, the lessons of the Haiti Revolution and self-reliance. That's it. #GinenPoze
⁠
— Èzili Dantò of HLLN/ #FreeHaitiMovement⁠
August 21, 2021 –on the eve of the 230th anniversary of the Great Haiti Revolution
*
Join #FreeHaiti Aug 22, 2021 for a special #FreeHaiti Bò Kay Manbo Inan presentation
Watch for the link on our social media platforms: Youtube and Facebook