Arms trafficking in Haiti of semi automatic guns and ammunition has been the subject of recent criminal convictions in the United States. Yet, more and more, abandoned planes, filled with assault rifles and war weapons, are being dropped into the hillsides of Haiti. Who is dropping planes filled with illegal weapons into Haiti and why?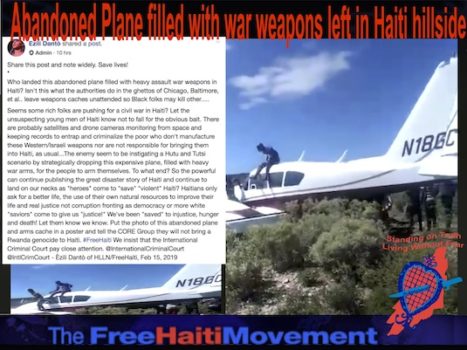 Arms Trafficking in Haiti

Here's a video of the latest one, found by the people, on a hillside in Haiti, probably on February 15, 2019. The pilot was nowhere to be found when the people got there to investigate. This is not the first plane to be dropped off with a caches of weapons as "gifts" to the Haitian poor. What is going on?

I posted this question on social media today and share a few responses:

"No surprises here as the eternal and usual enemies of Haiti used disinformation, fake Samaritans, physical and psychological violence, religions, shenanigans, subterfuge, and of course weapons trafficking." — Harry Comeau

"Èzili Dantò, this was done at Mole St. Nicholas, it was a drug dropped. They do that every time. They had one last month but we burned it down. However, they decided to keep this one." — Max Papillon

However, listen below to the radio testimony, in Kreyòl, which was sent to me along with the video on the matter. The speaker says the men seen on top of the plane investigation found big weapons in the abandoned plane, the pilot nowhere to be found; that this is not the first such plane abandoned with loads of weapons in them. He thinks someone is trying to start a civil war, get Haitians to kill Haitians

Ownership and Registration
If the aircraft registration numbers are N18GC, then this plane is a Piper Aztec, owned in trust by Strong Tower Services, LLC Trustee (which brokers international plane sales), registration number 1970 PA23-250 SN 27-4490, New Castle, Delaware, USA.
We got the registration information from Flight Aware. Flight aware shows flight plans are blocked. An owner/or agent of the owner apparently has that prerogative if they do not want to be tracked on FlightAware. Here's the FAA registration information and more ownership information perhaps found regarding "who is behind the shadowy Delaware company " in the article titled The Many Mysteries of Ask LLC and Moise Katumbi. I'll let you read it.

Strong Tower executive team information is on their website, here. "Vice President Dan Piraino is the president of Strong Tower Services." Daniel Piraino, a self described "rogue and treasure hunter" was a former Delta Airlines pilot who is allegedly deeply involved in corruption and politics in Democratic Republic of the Congo, Katanga province. His home, we are told, in Wilmington Delaware, rivals the Hearst mansion.

This is all above this lawyer's pay grade. We pray our concerned readers, who want to save lives, will help forward the link to this article to the FBI, DEA and Haiti police who have more resources than we do to dig deeper. If any of you should find out more about the owners of Strong Tower LLC and their relationship to Haiti, feel free to share with us ([email protected]) and we'll update this post with more of your contributions. Thank you. There seems to be a definite tie in to illicit mining activities in the Congo by officials of Strong Tower and they may engage in similar illicit mining activities in Haiti also.

Our concern, as justice advocates, centers on stopping the flow of illegal weapon trafficking in Haiti. And, if this was also about drugs to disorient and criminalize Haitians or to use Haiti as a drug transshipment center, we want it to stop. The people demand the colonial puppets selling out the country to resign. The poor want a better life in Haiti, which means: clean portable water, living wage jobs, more local entrepreneurialship; sanitation, electricity, access to relevant education, security for the poor, inclusion, justice, investment in local production, manufacturing and distribution; the use of Haiti mining resources to elevate the peoples living standards and accountability for the PetroCaribe billions missing, not more Western depravity such as arms, strip mining and drugs to elevate the violence rate in Haiti, the better for foreigners to get a bigger footprint and come in to plunder or to "save Haitians" some more.

Kreyòl Radio of eyewitness: Abandoned plane filled with weapon