In this video the recently DEA-extradited warlord, Guy Philippe, campaigns with Tèt Kale legal bandit candidate, Jovenel Moise; tells the people he is the "godfather" to the Jovenel Moise (s)election.
Decent Haitians must peacefully stop the 2017 doctored election of Jovenel Moise, a suspected money launderer and the close friend of DEA-extradited warlord, Guy Philippe. Stop the corruption and neocolonial amorality in Haiti. See, a Èzili response from Jan 25, 2016 where Guy Philippe threatened war if Martelly and Jovenel didn't get their way in Haiti at Guy Philippe Threatens War on the People's Resistance Against Imperialism- Wants to Stop Martelly Immediate Resignation.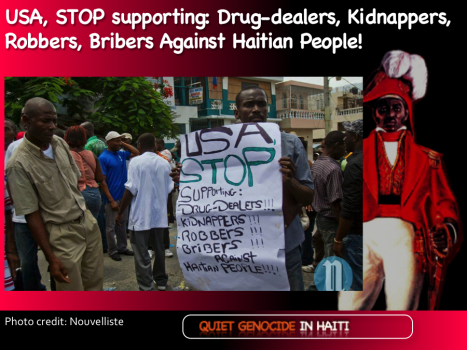 This week, the local, oligarchy-owned Haiti media has deployed a bunch of despicable Haitians to pontificate and support fraud, drug dealers, Tèt Kale lawlessness under the pretext of denouncing the Haiti-U.S. arrest of warlord and suspected drug trafficker and money launderer Guy Philippe. They are either misguided or all amoral, wicked and a disgrace to the Ancestors. They destroy the law and work with the colonial swamp out of Washington. (See, Guy Philippe is a Criminal Not A Hero and Èzili response to a black collaborator from Guy Philippe's Grand Anse area as to why he's good riddance. )
It's time to give the people a chance. Clean the swamp… Hell yes I am as serious as a heart attack. This hypocritical, illogical, "schooled" Haitian cry about "violation of Haiti sovereignty" because the DEA came and picked up the small 2004 US coup d'etat pawn, is ironic and definitely laughable.
Haiti is under US occupation behind a UN humanitarian front, fake elections and the charitable industry (NGO republic) for 13-years now! In fact, the very building the Parliament is sitting on is on loan from USAID! The Haiti national palace is still destroyed from the 2010 earthquake while these idiots calling themselves "president, Senator, and deputy," prance about fleecing the country for the Clinton-Obama thieves, filling their own pockets and talking about "Haiti sovereignty" when one of their warlords is brought to justice. The colonial flunkies are unspeakably perverted and beyond lawless. The innocent and suffering people of Haiti cannot institutionalize the rule of law with lawbreakers, criminals, and folks without a moral compass. The Haiti Parliament and presidency cannot be a place where criminals go to hide, get immunity for their wrongdoings under the pretext of being "public servants." This parliament should not be seated without a clean up just as Jovenel Moise shouldn't wait for the US to pick him up on money laundering charges. Haiti justice must act first.
Fòk Ayisyen konsekan ki gen krentif e kouraj fè sa ki jis e dwat: Kraze Palman kote tout kriminèl yo al kache a.
Fè verifikasyon. Jete fwòd. Di: Aba koudeta 2017 elektoral kriminèl, travay kidnapè, dwòg dilè, asasin PHTK e bandi legal yo mete lan Palman- Restavek Blan Kolon e Duvalierist esklav mantal yo. Ayiti pou Ayisyen. Resous Ayiti pa pou zanmi e frè Hillary Clinton, Bigio, Boulos, Apaid, Sherif Abdallah, Mevs, Digicel, Sola…Li pa pou vann pou degouden ti manman cheri ak ti nèg fig e roz yo. (See, Photo Album on the Tèt Kale-power elite's electoral coup d'etat, here)
---
---
---
An Èzili Newsletter posting, January 9, 2017
Èzili response to a black collaborator from Guy Philippe's Grand Anse area as to why he's good riddance: Philippe is a criminal not a hero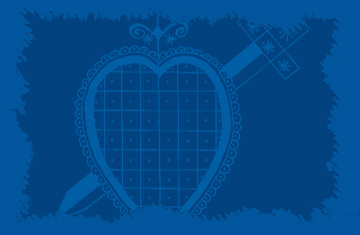 Philippe Is A Criminal, Not a Hero
The email from a Guy Philippe defender from his town and our response are copied below.
I'd appreciate if one of you would translate, in Kreyòl (Haitian), our response on behalf of the voiceless and suffering Haiti people to the defenders of warlord, Guy Philippe. Many hands make light a heavy load – Men anpil chap pa lou. (Update: here's the Kreyòl translation: Repons Nou Bay Conze yo K'ap Defan Guy Philippe Ki Se Yon Gwo Malfektè: Li Pa Yon Ewo Ditou Ditou)
***
Philippe was arrested on January 5 by a joint Haiti-DEA taskforce and brought to Florida to face drug charges. Kindly circulate summaries of the Èzili Dantò/HLLN points made in this response and here on our website to counteract the local morally repugnant oligarchy's media propaganda where the MREs and their pawns are denouncing the DEA arrest in the name of "national sovereignty" — generally distracting the traumatized Haitian people from the matter at hand, which is stopping the oligarchs latest purchase of the Haiti presidency; stopping the colonial switching of puppets, from Martelly to Jovenel Moise. (See statement below responding to a Guy Philippe defenders and this: Guy Philippe is the Godfather to the Jovenel Moise 2017 electoral coup d'etat.")
The coup detat folks are busy blaming former president Rene Preval for signing the 1997 accord which allows for the joint DEA Haiti operations and extradition, although it is only applicable, some say, if the assailant is caught on the high seas. This consideration is moot to us since Haiti is under occupation and we've consistently fought to stop the occupation, the local corruption that feeds the occupation, the Tèt Kale legal bandits in all their forms, the restavek negros</em> who sell-off Haiti resources to foreigners at the expense of the population's well-being. Our work is for the institutionalization of the rule of law.
But for these cretins or the misguided who are defending Guy Philippe's "rights" and blaming his DEA arrest on the 1997 Accord Preval signed with Madeleine Albright, here's what we also wish to note: hellooooooo you brainless idiots. Didn't the 50th Legislature also sign a similar money laundering accord with President Barack Obama (that allows the US to come inland to arrest money launderers, including those washing drug proceeds?) They've signed their own accord to allow US into Haiti, but they're the same PHTK-KID, GNBIST people whining now about "sovereignty" because one of their own untouchables are brought to justice
According to former Senator Moise Jean Charles, six senators opposed the money laundering accord that would allow the U.S to arrest those accused in Haiti as an imposition against Haiti sovereignty. Fact is, only Haitians who have consistently and ethically struggled for Haiti sovereignty may now comment on Haiti loss of sovereignty with credibility, not the capricious and hypocritical ones scared the law might catch up to the legal bandits in Parliament, at PHTK and those who have held the country hostage for the MREs and global power elites.
If the new Trump Administration exercises the money laundering accord, signed by the 50th Legislature over the objections of Senators like Moise Jean Charles and the others, the first assailant may be PHTK fraudster Jovenel Moise, falling on a sword put there by his own people.
So I'd suggest, Haiti law enforcement, such as it is, stop the 2017 electoral fraud first, before it further taint and sits down as a Haiti president.
Throw Jovenel Moise out for electoral fraud. Insist on verification for the remaining candidates with clean hands and finish the election without the bandits.
That way, those of you embarrassed by the DEA arrest, won't be embarrassed if they come take Jovenel Moise for violating the money laundering accord, signed under Michel Martelly.
Don't Fall Down the Rabbit Hole: Focus on stopping the Jovenel Moise 2017 electoral coup d'etat, insist on a vote verification after Jovenel Moise is disqualified for fraud.
Be well,


Ézili Dantò, Haitian Lawyers Leadership Network (HLLN) and Free Haiti Movement, January 9, 2017
---
---
Èzili Response to a black collaborator from Guy Philippe's Grand Anse area as to why he's good riddance
***
From: zili danto <[email protected]> (slightly revised, formatted for the website and re-sent to addressee with links added in this version.)
To: Fritz E. Joseph
Sent: Sunday, January 8, 2017 5:17 AM
Subject: Fw: GUY PHILIPPE UN CLASSIQUE DU 21eme SIECLE HAITIEN
Mr. Fritz E. Joseph
This pontification and singing the praises of the mass murderer and death squad leader, Guy Philippe, is disturbing, brainless and amoral. Conze Guy Philippe was used by the imperialists to humiliate the Ancestors with a 2004 bi-centennial coup detat.
Philippe committed high treason, slaughtering over 30 police even before 2004 and providing the pretext, in 2004, for the US occupation behind the UN humanitarian front that killed at least 14,000 innocent Haitians from 2004 to 2006 and brought the UN which brought cholera that poisoned the Haiti water system, killed over 10,000 and made nearly one million Haitians sick.
I don't care if this Conze's bosses puts him under the jail in Miami. Period. This is a bit of justice for the victims. Tonight in Jeremie, Philippe's crew are still burning houses because their meal ticket is gone.
If there was respect for human life and equal rights in Haiti, the parliament would not now be filled with alleged criminals: kidnappers, drugdealers, money launderers, weapons traffickers. But since the "schooled" Haitians are concerned only with their stomachs, not morality, equality and integrity, justice is for sale.
But as lawyers and justice activists, we've been demanding that Haiti law enforcers apply the law. They have not. So, the US may come take all the PHTK-KID thieves to justice who have served the Bush-Clinton-Obama imperialists since the fall of Duvalier in 1986. The country needs a thorough clean up and people like you, do not have the moral spine to even see the necessity.
As a lawyer I've spent 23-years insisting that the one-person-one vote principle must be respected in Haiti by the vampire Haiti oligarchy and their Tonton Makout ghouls.
But that's been a futile mission as the latest Jovenel Moise electoral coup d'etat evidences. Guy Philippe's murder and mayhem in Haiti doesn't make him "Un Classique Du 21eme siecle Haitien." You calling him a hero and comparing your views and values to that of the great anti-imperialist and freedom fighter, Goman (Jean Baptiste Perrier) of Grand Anse, is delusional, wicked and an insult to Goman's sacred memory.
Haiti is under occupation since 2004 and we can even go back to 1915 and say the US never left but trained the Cedras army and then Guy Philippe in Ecuador to come do the imperialist bidding. Guy Philippe was a dirty cop and then a pawn of empire in 2004.
The current indignation against Philippe's perhaps procedural questionable arrest by self-styled "protectors of Haiti sovereignty" is capricious and political.
Sir, the president of the Haitian Senate, Senator Fourel Celestin was arrested by U.S. agent on drug allegations. Why wasn't there an outcry and an essay from you about Haiti sovereignty? Is is because he was from the Lavalas political spectrum? But Guy Philippe is part of the coup d'etat contingent working for the morally repugnant Haiti oligarchy that owns the Haiti journalists and uhm "intellectuals," beating their macho chest today on local Haiti radio, hypocritically blustering on about Haiti sovereignty and the untouchable Guy Philippe?
Philippe really thought he wasn't expendable to his masters. But the US doesn't need him now because they perhaps don't want him interfering with their control of Jovenel Moise, whose 2017 non-election people like Philippe along with Bigio, Boulos, Brandt, Mevs, Abdallah and Apaid financed and helped to "godfather." (See video at: Guy Philippe is the Godfather to the Jovenel Moise 2017 "election".)
If Philippe trafficked in drugs as the 2005 unsealed US indictment details, it most likely was to get arms and funds (Ira-Contra style) to kill and take down the democratically elected Haiti president in 2001, 2004. Of course his bosses knew about it as they probably participated in protected his GNBIST/Tet Kale crew, just like empire first protected their assets: Noriega, Sadam Hussein, Mobutu, Papa Doc, Baby Doc, and the rest. The U.S. oligarchs running Washington always play both lawgiver and gangster. They're play acting the lawgiver now, savior of the law, while they switch puppets.
Frankly, our organization won't get involve in this family affair. But we're happy for the Guy Philippe victims; sad that the occupation of Haiti continues now 13 years on since Group 184/Guy Philippe=Tet Kale started the bicentennial rampage.
Our question is why is there no outcry by the schooled Haitians against the 13-year UN/US presence? Or, the fake election of Martelly in 2010 and now his restavek, Jovenel Moise in 2017. Sir, your text indicates that you don't give a damn about the sovereignty of the Haitian people, the constitution, honor, respect or the people's vote both for Aristide-Neptune in 2000 and the PHTK-Duvalierist/Oligarchy/CORE Group electoral frauds under occupation in 2010, 2015, 2016.
As long as Haitian law is for sale, and there are untouchables in Haiti and Haiti is under occupation, and the Duvalierist and 13 mercenary white families they serve are deemed untouchable, Haiti won't be free.
Here's a photo depicting what you're supporting: extrajudicial killing, lawless paramilitary groups (aka Ti Nèg Roz yo) ; you're part of the neocolonial system which denies the first Black nation access to human rights, you are part of the token black collaborators who protect the few against the many. The occupation, criminality and corruption must end by any means necessary for the greater good and for the country to progress. (See, Washington-backed Haiti Death Squad Leader, Guy Philippe, Finally Arrested On U.S. Drug Charges
Èzili Dantò of the Haitian Lawyers Leadership Network and Free Haiti,
January 8, 2017
***
***
—– Forwarded Message —–
From: Fritz E. Joseph
To: [email protected]
Sent: Saturday, January 7, 2017 8:38 PM
Subject: GUY PHILIPPE UN CLASSIQUE DU 21eme SIECLE HAITIEN,
Fritz Joseph, July 26, 2016
GUY PHILIPPE : UN CLASSIQUE DU 21ème SIÈCLE HAITIEN
REFLEXIONS POLITIQUES XII 7 / 24/ 2016
Par Fritz E. Joseph (Jef)
Au beau milieu de mes Réflexions: QUI PENSE-T-ON TROMPER, PAS MOI, GRÂCE À DIEU! Un texte dont je me proposais à terminer bientôt, quand soudainement, j'ai du l'écarter d'un revers de main, pour répondre momentanément à une urgence conjoncturelle d'une grande importance sur la situation haïtienne.
Je m'en excuse; Je promets de vous en revenir bientôt, merci pour l'attention.
Quelle décision de justice avez-vous entre vos mains? Telle est la question fondamentale de maître Reynolds Georges, intervenant sur les ondes de Radio Caraïbbes, pour le compte de son client, Guy Philippe, au cours d'une émission de ce media fort écouté, animé par le propagandiste, Jean Monard Métellus, dont les démarches rocambolesques, y compris son arbitrarisme, de ce qui peut être et ne pas être publié dans le Moniteur; du tic au tac à vouloir dérouter un homme de loi, en invoquant des prétextes que rien ne justifie; exhibant une certaine attitude d' être plus royaliste que le roi, le tout faisant accroc à la liberté individuelle et une violation des droits de l'homme et du citoyen; traduisant sans équivoque, la crapulerie d'un agent informateur, bien soldé par "Ti-Pan-yen", nous rapellant un passé pas trop lointain : l'ère de la "Gestapo".
Mr. Guy Philippe est le commandant controversé (bravé danger, responsab malè), un ancient boursier de l'ancienne Forces Armées démobilisées qui dirigea l'insurrection populaire en février 2004, conduisant à la destitution du gouvernement lavalasse, présidé par Jean Bertand Aristide .
Son Ministre de l'Intérieur Jocelerme Privert, un évadé de prison, ainsi que le Premier Ministre Yvon Nepturne avaient passé 2 ans et 6 mois incarcérés, sur l'accusation du massacre de la Scyrie à Saint Marc et de Raboteau aux Gonaïves.
J'ai toujours eu une admiration particulière pour ce héros, victime et peu chanceux.
J'avais suivi avec passion, devant la Presse Internationle, ses prises de positions et sa détermination pour défendre et servir son pays avec honneur et mérite.
Résolu de prendre une part active au redessement politique au niveau national, il a été trahi par certains leaders GNBistes. Interviewé par la Chaine Française, le leader Charles Henri Baker, déclara lors:" Quand on se noie, on s'attache à n'importe quoi"!
Dès lors , j'avais compris que le marriage de raison ne pouvait pas être consumé; c'était la fin des noces pour le leader de Pestel……..
Traqué, jusque dans sa localité de Pestel où il tient domicile, par le Président René Préval, et les agents fédéraux des USA. S'agissait-il de stupéfiants?ou se serait-il montré bavard sur certaines véritées qu'il n'aurait pas du dévoilées.
Guy Philippe finit par résoudre, parait-il, ses vieilles querelles avec les autorités Fédérales Américaines. Il eut du répi pour une bonne dixaine d'années. Il rendait visite aux soldats démobilisés, d'un bout à l'autre au pays.
Admis au second tour pour les Elections Sénatoriales de 2015, il est très choyé par la population Grand'Ansaise qui voit en lui une voie autorisée et un héros de grande valeur.
Jocelerme Privert dont le mandat de 120 jours écoulé fait de lui un de facto et un usurpateur , espère encore pouvoir mener une politique de chasse aux sorcières, jurant sur la tombe de sa grand'mère de faire payer à Guy Philippe son hardiesse, le rendant possiblement responsable pour les rats qui lui avaient rongé les orteilles dans les geôles du Pénitencié National, lors de son dernier séjour. Magouilleur émérite, Jocelerme Privert avait du choisir la mauvaise formule, une aventure très peu honorable, telle l'attaque du 16 Mai 2016, sur le Commissariat de la Ville des Cayes, causant la mort d'un policier et quatre assailants qui s'apprétaient à prendre la fuite, après l'escamouche. Il voulait à tout prix, impliquer notre bon Guy Philippe dans cette histoire.
Le rancunier Privert , au risque de se perdre n'a pas pas voulu profiter de mes conseils salutaires, de se boucher ses oreilles de cire, pour ne pas écouter la voix des sirènes qui le conduira dans la cité de Jean Baptiste Perrier (Goman).
Privert décide de transformer officiellement en police d'occasion les éléments les plus extrémistes de la rue, ceux qui manifestent le mieux la déviation politique et policière pour la création de sa Milice. Palala-palala, palalaw-palalaw. Shall we see you again, Commandant Himmler Rebu!!!
Ce qui se trame contre Guy Philippe est inadmissible et incite à la révolte. Dès lors, la vulgarisation de ce dossier sensible, entre les mains de Jean Monard Métellus, les dés étaient déjà jetés; Son jugement est déjà prononcé sur les ondes par des juristes, sa condemnation naturellement, pour un cas de (Haute Cour de Justice).
Le propagandiste est si intéressé qu'il a lui- même consulté le chef de la Police pour avoir son aval, après que ce dernier eut consulté le Ministre de la Justice , Camille Edouard Jr. pour faire assoir ses hypothèses, lesquelles relèveraient : la mension d'agir…. Palala-palala, palalaw-palalaw. Shall we see you again, Chief de la Police, Ministre de la Justice Camille Edouard Jr. . . Palala-palala, palalaw-palalaw… Shall we see you again.
La fine hypocrisie dont fait montre Jean Monard Métellus est comparable au" rat mordé, soufflé." Métellus voulait se rassurer pour que la désinformation, soit bien rodée, et fasse bien son petit bonhomme de chemin à l'échelle nationale, pour préparer le public à une offensive prochaine…en marge du soi- disant élections, si les priorités ne changeront pas de casaque , en cours de route.
là où le bât blaisse, Jean Monard Métellus veut se faire passer pour un ami de Philippe, mais fou qui s'y repose.. Ce sont des ces tactics des dits et des non dits pour prouver qu'on n'a rien en mains pour la prosécution.
Mais, Mr Hermann Göring , vous avez tous les éléments à votre portée…car quand vous entendez parler de démocratie , vous décrochez votre microphone, n'est-ce pas?
C'est avec indignation, en tant que citoyen de la Grand'Anse que je prends le contre-pied de vos déclarations, Me Göring, vous ne faites pas preuve d'état d'âme.
Votre comportement ne fait pas honneur à la presse haitienne. Vous aviez donné rendez-vous à Me Reynolds Georges pour ce samedi à Ramassé, pour reprendre le sujet. Me Reynold Georges y était présent. Vous n'avez pas tenu promesse et je comprends pourquoi. Le message étant déjà parti, mission accomplie. Le corps du délit est dans tous les réseaux sociaux, à commencer par" Tripotay Lakay".
Le Sénateur Guy Philippe peut s'exprimer comme il veut, comme l'a fait resortir Me Georges , en concordance avec l'article 28 de la Constitution stipulant:" Tout haïtien ou haïtienne a le droit d'exprimer librement ses opinions, en toute matière par la voie qu'il choisit".
Jean Monard Métellus fait appel à la sédition pour essayer de violer à même, l'article 28 de la Constitution.
Jean Monard Métellus n'avait par parlé de sédition quand les supers voyous de la rue: Me Jean Danton Léger" Rat pa Kaka, Me André Michel, Me Evalière Beauplan et leurs suppôts invitèrent la population, en guise de cartes électorales d'apporter avec eux : pics, manchètes, pierres et gasoline pour boycotter les élections du 24 Janvier 2016 et solliciter une guerre civile contre les paisibles citoyens qui voudront exercer leurs droits le plus légitime, le plus inaliénable, celui de voter paisiblement. Je n'en vais vous dire dans les lignes qui suivent.
Si la désinformation, Mr. Göring, est devenue pour vous la règle d'or, le syndrome Jean Monard Métellus consistant à éclaircir son épiderme au point de ne pas se faire reconnaitre et d'influencer plus d'uns qui ont du toupet pour m'affirmer que Jovenel Moïse est trop (Nwar) pour être Président d'Haïti. Han! C'en est une.
Parlant de guerre civile, les Etats Unis ont eu des mauvais moments dans leur histoire avec les Confédérés, Durant la guerre de Sécession, soit à Gettysburg, dans le "Devil Den", à sharpsburg , Antietam, dans le Maryland où dans une journée, 22.717 hommes sont morts ou portés disparus.
La Grand'Anse a dans le passé depuis 1807 à 1820 a connu des faits d'armes extraordinaires…
La cause de Guy Philippe est une noble cause. Le Sénateur Guy Philippe est un paisible citoyen qui veut opérer en marge et dans le respect de la loi.
Si Jocelerme Privert" Ti-Pan-yen" se croit avoir les reins solides.
Si ces messieurs, après cette plaidoirie veulent commettre l'imprudence de fouler la terre de Jean Baptiste Perrier( Goman), je leur souhaite bonne chance.
Sénateur Guy Philippe, Let's la Grand'Anse be Goman again, l'histoire vous sera reconnaisant. A bon entendeur salut!
Patriotiquement
Jef
***
---
---
---