Ezili Dantò on HuffPostLive and Twitter:
Hundreds of thousands of Dominicans face deportation to Haiti

---
---
No to civil genocide, ethnic cleansing and expulsions in Dominican Republic
"The last time something like this happened was Nazi Germany, and yet people are like, shrugging about it"€—- Junot Diaz, famous Dominican author
Share and circulate widely
Please support HLLN/Free Haiti Movement Boycott DR campaign by re-tweeting this twitter post, here. Men anpil chay pa lou. Let's help stop the depraved treatment of Haitians in the Dominican Republic with the economic boycott. Educate your favorite artists and baseball player about the ethnic cleansing their unwittingly upholding in the DR. Educate everyone to help stop the DR travesty by not supporting companies and products with factories and economic interests upholding DR apartheid, exploitation of Haiti workers, ethnic cleansing, civil genocide and denationalization. See for instance, Beyoncé Wears Timberland x Bee Line Boots in "€˜Feeling Myself"€™ Video and Pharrell Williams"€™ New Bee Line x Timberland Boots Release Date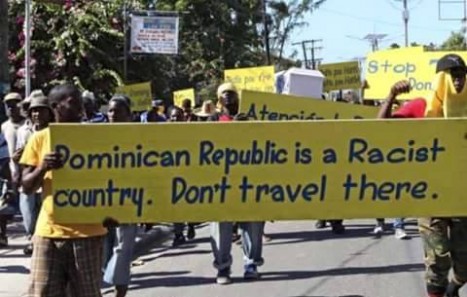 Help stop the racist policies and call to account, the major businesses in the Dominican Republic, emboldening racial profiling, violence and economically rewarding the denial of African roots. (See, A Barbaric Lynching in the Dominican Republic and photos here.)
Join in our "Say it loud: I'm black and I'm POWERFUL" campaign against Dominican Republic's legalized racism and apartheid. Ezili's HLLN coalition publicly request that Timberland Boots and Major League Baseball and others with billion dollar economic stakes in the Dominican Republic commit to stop supporting apartheid, worker abuse/intimidation and denationalization and denounce and divest out of apartheid Dominican Republic until the Dominican Republic align its laws to international norms for human rights.
Boycott, Divestment, Sanctions
Boycott, Divest and Sanction the Dominican Republic. Boycott Dominican Republic Products, Service, Tourism and Trade for making apartheid and racism legal in the Western Hemisphere. Buy local Haiti production.
Boycott the Dominican Republican products, services, trade and tourism. We will publish those with an economic stake in apartheid Dominican Republic and ask that you boycott their products and services, beginning with Timberland Boots and Major League Baseball. Call, write, make social media videos, urge US gov and Congressional representatives to sanction DR, visit in protest (like Chicago & New York did) the DR consulates in your area let them know respectfully that their apartheid laws cannot be camouflaged as immigration policy. Denationalizing more than 250,000 Dominicans of Haitian descent and profiling Haitians for expulsion without due process violates the laws of nations, is a crime against humanity. (See Real News Network video: How Big Business Fuels Haitian-Dominican Tensions.)
The Free Haiti Movement and the Ezili HLLNetwork coalition is asking everyone in solidarity with Dominicans of Haitian descent and Haiti migrants to call major League Baseball and Timberland, ask them to denounce and divest out of apartheid Dominican Republic. Alaso Ayisyen, alaso. (See US Military Aid Supports Anti-Haitian Deportations in the Dominican Republic and, The Dominican Republic refugee crisis is so bad, people are comparing it to Nazi Germany.)
1199 is the largest healthcare union in U.S. It has called for an end to the DR discrimination against and deportation of people of Haitian Descent in the Dominican Republic. It's time for the National Association of Professional Baseball Players, with the countless Major League baseball academies in the DR, using Dominicans of Haitian descent labor and talent, to do the same. We call upon the National Association of Professional Baseball players and Major League Baseball to follow 1199 union's example. Denounce and divest from apartheid DR, help stop all worker abuse. Corporations have a moral, community and legal obligation to not orchestrate or participate in racist policies which conspires to emboldening racism by economically rewarding the denial of one's African roots just so the poorest of Dominican may survive neocolonial poverty.
Contact the consulate of the Dominican Republic in your country and tell them that in 2015 we do not tolerate apartheid.
Toronto (416) 369-0403
Ottawa (613) 569-9893
New York 1 973-684-7491
Miami (305) 358-3220
London +44 20 7727 6285
Madrid (+34) 91 431 53 95
Berlin (+49) 30 257 57 76-0
Australia +61-2-9363-5891
Morocco +212-2607-6235
Paris (+33) (1) 53.53.
Bogata (+57) 1-601-0023
Montreal 514-284- 6600
Vancouver +800-960-8309
***
Share and Circulate widely
Invest in local Haiti production not DR imports
Boycott Dominican Republic goods, services, tourist, travel and trade for making racism legal. Help stop the civil genocide, legalize violence, apartheid and ethnic cleansing by law in the Dominican Republic. Support local Haiti agriculture and productions, not DR imports.
Help defend Black Dominicans and Haiti immigrants from historic white supremacist bloodlust, thievery and racial hatred. The DR has retroactively revoke the citizenship from 1929 to the present of mostly Dominicans with Haitian descent in a clearly malicious, malevolent racist and distasteful move to take Haiti lives and property, deny them civil rights by making them stateless and illegal in the Dominican Republic going back eight decades. ENOUGH worldwide suffering for Haitians everywhere. Lift up human values and civil behavior. Join the Ezili/HLLNetwork, the Free Haiti Movement, MUDHA, Reconocido , We Are All Dominican ("€ª#"€ŽNoMasRacismoRD"€¬), Eritye Papa Desalin along with all our brothers and sisters in the DR, however they may define themselves, to stop racism and racial crimes against Haitians in the DR, dark-skinned Dominicans and Dominicans of Haitian ancestry.
Listen to our English Boycott recording announcement with Edwidge Danticat.

Kreyòl Boykòt recording with Koralen.
Boykòt sistematic tout sevis, biznis ak pwodwi Dominiken
BOYCOTT the Dominican Republic as a rogue nation for making apartheid legal in the Western Hemisphere. Demand international sanctions and that the puppet Haiti government STOP all trade, commerce with he DR and deports DR ambassador/all its staff back to DR, recall its ambassador/all staff from DR IMMEDIATELY. Denounce all in the controlled opposition in Haiti merely looking to hold on to political jobs but who do not defend defenseless Haitians, who do not denounce the DR's vile and racist actions against our brothers and sisters in the DR. Demand accountability. (See, the Quiet Genocide in Haiti, from FDR to Obama: The UN a Criminal Organization from Lumumba to Aristide.)
***
Extreme Xenophobia in Dominican Republic – Interview on the Global African – For video: Click here, and entire transcript, here.
***
Share and circulate widely:
Right of Denationalized Dominicans to seek political asylum
The right of political refugees is outlined at Art 14 Universal Declaration on Human Rights and the Right to Nationality, Art 15, Universal Declaration on Human Rights.
"Political asylum is one of the human rights affirmed by international law, including at Article 14 of the Universal Declaration of Human Rights. Ezili's HLLN has advised denationalized Dominicans in fear for their lives to go (in groupings with notice to the media) to the nearest embassy of their choice to request political asylum. All countries who have agreed to the United Nations Conventions Relating to the Status of Refugees are theoretically obligated to provide political asylum to those who qualify, are fleeing political persecution. It's our educated guess at Ezili's HLLN that soon the UN will be asking Afrikan and countries like Australia to take in the denationalized Haitians. No way will the US hurt its 11-year UN ethnic cleansing project in Haiti by adding in more Black blood related to the Haiti revolution to the Haitian side. And, if ALL descendents of Haiti could leave the DR, the DR wouldn't have a country, much less an economy!" — Ezili Dantò, Free Haiti Movement/HLLN
See, The United Nations High Commissioner on Refugees (unhcr.org) guidelines for prima facie recognition of refugees http://www.refworld.org/docid/555c335a4.html and http://www.refworld.org/protectionmanual.html
"UNHCR is concerned about the human rights considerations for people who may be expelled and end up being pushed into Haiti, even though they are not considered as citizens of that country. "This would have serious repercussions for all who are affected and be a serious setback to efforts worldwide to end the problem of statelessness."€ UN agency urges Dominican Republic to refrain deporting stateless people, June 19, 2015
Recommended Links and Videos:
Protest against deportation of Haitians and Dominicans with Haitian descent. Source: VideoPam.com
***

---
Legba, Ouvè Baryè Pou Pèp la. Atibon Legba, ouvè baryè pou moun yo"– Sanba Mario Chandel
James Brown, I'm black and i'm proud!- 2015: I am Black and POWERFUL


Ezili Dantò, Haitian Lawyers Leadership Network (HLLN) and Free Haiti Movement, June, 2015
"The West has two faces. One evil."
---
---
Fwa saa, Ayisyen nou mele. Gade lan kisa nou tonbe… lakay vwazin. Nou antrave!
***
***
---
---
---
MORE BACKGROUND INFORMATION

To help sustain this work become a
paid monthly subscriber
at $12 per month. Your support is much appreciated. Thank you.
***

---
---
***
Use this hashtag- #BoycottTimberland – Tweet it, tweet it, share and circulate our Boycott posts!!!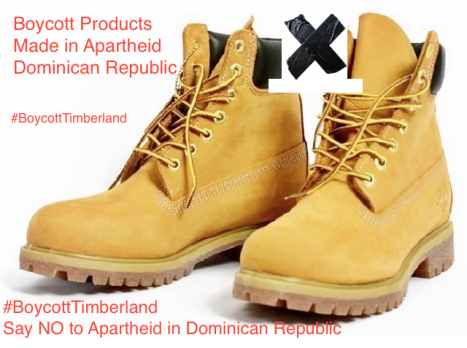 Join the Ezili Network/Free Haiti Movement coalition in boycotting Timberland made in the DR. The HLLN/FHM is also campaigning for Major League Baseball to denounce the DR's denationalization ruling and to divest from its DR baseball academies, most, build by Haiti construction workers in danger. Some, shot at by DR security for asking to be paid!
Demand that the DR stop being a rogue nation and follow international human rights norms: The right to nationality is an internationally recognized human right.
"Timberland has a MAJOR factory in the Dominican Republic (DR) that employs nearly 2,000 workers. The corporation would probably collapse if it weren't for Amerikkkan Afrikans purchasing their clothing, particularly the iconic "Yellow Boot". As a show of solidarity with Our Haitian Brothas and Sistars who are being expelled by the DR government, we are mounting a boycott against Timberland products. If you own Timberland shoes, shirts, pants or anything else by them, put a black piece of tape in a prominent place on the item. This was done in the early '90s against Nike and led to the first Afrikan being placed on its corporate board, former Georgetown basketball coach, John R. Thompson. Until further notice, we are asking Afrikans not to purchase ANY Timberland products and call upon its Board of Directors to formally denounce the DR's racist and genocidal policies toward Haitians. "€ª#"€ŽBoycottTimberland"€¬!" — Dr. Ray Winbush, Urban Research Center
***
Dominican Deportation of Haitians Sparks American Outrage

***
The Stream – Is there a future for Haitians in the Dominican Republic

***
Families Are Deporting Themselves to Haiti: Dominican Deadlock (Dispatch 3)

***
Citizenship Limbo for Dominican Haitians: Dominican Deadlock (Dispatch 2)

***
The Deadline for Citizenship: Dominican Deadlock (Dispatch 1)

***
Raw Coverage from the Dominican Republic (1:24:11)

***