Save Haiti – Annul the fraudulent Nov. 28 elections
Source: Youtube
********************
Miami Herald: Letter to the Editor
Haitian election was a sham
Some months after the Jan. 12, 2010 earthquake Edmond Mulet and the Organization of American States were the first to direct the Haitian people to hold official elections at the end of 2010. Despite the contrary opinion held by the majority of political parties, many civil society organizations, public leaders and fellow citizens – who had raised the issues surrounding elections due to the displacement of the civilian population, the destruction of buildings and insufficient time to purge the electoral list – the supposed friends of Haiti, executing their own agenda, did not want to listen to reason.
As a result, the elections took place Nov. 28, 2010, and as expected, the results plunged the country into chaos. During four days of wild demonstrations, the rise of violence caused destruction almost everywhere in Port-au-Prince, Petionville, Cap Haitian and Les Cayes. The sovereign Haitian people expressed their disapproval of Ambassadors Edmond Mulet and Colin Granderson and the OAS and their anger at the organizers of the sham elections, namely the OAS, the government and the Provisional Electoral Council (CEP), who developed a diabolical machine to divert the popular vote. They continued, nevertheless, to show their disregard of the people by signing an agreement on Dec. 29 on the Mission of Experts of the Joint Electoral Observation Mission of the OAS and Caribbean Community (CARICOM).
The leaders of the electoral observation mission, in concert with the government, ignored the false ballots, the distribution of arms, particularly in poor neighborhoods, and the displacement of the electoral population. The leaders of the mission, the OAS, strongly implicated in these distortions of democracy, now want to be a part of the solution by proposing recommendations that will further spiral this country in crisis.
It is true that on Dec. 13 the government of Haiti prompted the OAS to send an expert mission to verify the tabulation. Nevertheless, the agreement between the General Secretariat of the Organization of American States, the Government of the Republic of Haiti and the Provisional Electoral Council on December 29, 2010 deliberately violates the charters of the United Nations and the Organization of American States, the current constitution and electoral law.
The Senators protest in the strongest manner possible against the report of the expert mission of the OAS, requiring that the Secretary General of the OAS recognize that elections are an act of sovereignty, so that this kind of intervention of the expert mission of the OAS in the electoral process flagrantly violates the right of Haitians to freely choose their leaders.
Edmonde Supplice Beauzile, Jean William Jeanty, Maxime Roumer, Nenel Cassy, senators, Port-au-prince
********************
Protesters look on as US Secretary arrives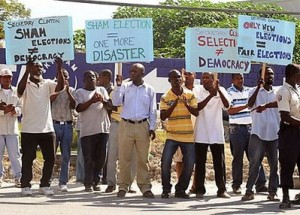 Source: Yahoo News photos, US Secretary of State Hillary Clinton
***********
For further info click also on:
Haiti's growing momentum towards democracy
The possible return of ousted President Jean-Bertrand Aristide and a pushback against the electoral fix give hope
Raw Video:Clinton in Haiti, Meets Candidates
Video: Me. Jean Henry Céant, Comment aider mon peuple -Candidate for president
Calls for a new election grow louder in Haiti
Aristide could have 15 passports and he's still not going to come back to Haiti. France and US are standing in the way
Haiti should issue a Feuille De Route to President Aristide
Legacy of Impunity: The Neoconlonialist inciting political instability is the problem. Haiti is underdeveloped in crime, corruption, violence, compared to other nations
Haiti message to US Embassy in Haiti: The Will of the People
by Ezili Dantò
For Ezili HLLN's position of the return of the terrorist Baby Doc Duvalier, see also:
*




*****************