It was a good day for justice and decency: Douglas Perlitz sentenced to nearly 20 years for sex abuse in Haiti, followed by 10 years of supervised release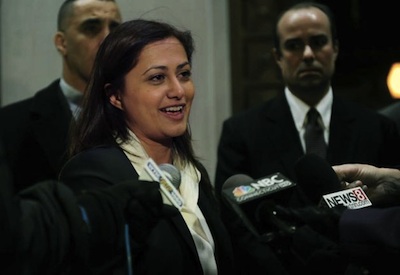 U.S. Attorney Krishna Patel speaks to the media outside the Richard C. Lee United States Courthouse after the sentencing of Douglas Perlitz in downtown New Haven, Conn. on Tuesday December 22, 2010. Photo: Christian Abraham ( Perlitz sentenced to nearly 20 years for sex abuse in Haiti )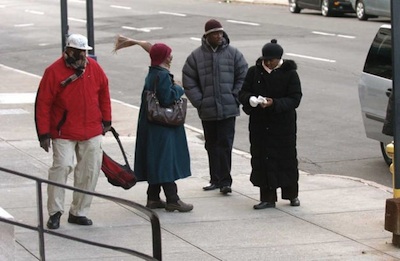 Members of the local Haitian community arrive at the Richard C. Lee United States Courthouse in downtown New Haven, Conn. to attend the sentencing hearing for Doug Perlitz on Tuesday December 21, 2010. Photo: Christian Abraham / Connecticut Post
*******************************
Ezili Dantò's note on the Perlitz sentencing:
YEAH!!!! Judge Arterton did it! Her sentencing and the ruling at sentencing lifted up the dignity and value of these abused Haiti children. Judge Arterton gave this much thought and thorough consideration. After almost seven hours of testimony, Judge Arterton said, "If one digs a well to supply water to those who have never had water, and then that person poisons the water, was building that well a good deed?"
Judge Arterton gave defendant Douglas Perlitz – the serial rapist and molester of defenseless, homeless Haiti boys – the maximum sentence possible: 19 years and 7 months, followed by 10 years of supervised release.
2010 has been the most horrendous year for Haitians.
There was an apocalyptic earthquake, which killed over 300,000 Haitians in 33 seconds; tarp cities of 1.5 million homeless earthquake victims still remain one year later, with little of the rubble removed. There's the more than 16,000 NGO/charity people collecting over $2 billion in donations, much of it unspent as the intended beneficiaries suffer and die. The rainy season brought hurricane Tomas and UN-imported cholera killing thousands upon thousands of vulnerable Haitians while the US/OAS and international community insisted on Haiti elections under these impossible circumstances that were essential not free, not inclusive and without an electorate. To top it all off, the Obama administration resume deportations to Haiti. It's inhumane that this was the good news for 2010. But that's what one grateful Haitian man said to me following the court hearing.
This is a truly extraordinary ruling for the Haiti children – for the world's defenseless children living in countries where the wealthier, predatory U.S. sex-tourists' hunt, heretofore with almost complete impunity.
Judge Arterton also said she read every letter sent. I think the maximum sentence reflected this. USGA, Krishna Patel was slamming! I mean really good in nailing her case! Doug Perlitz's lawyer rambled on, called the children the "scourge of the earth," "below dirt,"€ and said Haiti was so dark, pessimistic and negative, it contributed to Perlitz's downward spiral into abuse. The man was unnecessarily offensive.
It was a privilege and honor to thank the US government team and Rod Khattabi. A true pleasure. They did a spectacular job. It was heartbreaking listening to the children testimony. Six came up from Haiti along with two of the teachers who first listened to them and tried to stop Perlitz. True, true heroes – Margarette Joseph and Robinson Gedeus!!! Along with everyone else who came from the Network, we had four lawyers there from HLLN- Bob Celestin, Henri Alexandre, Mayor Joseph Makhandal Champagne and I. Thanks guys! Now we've got to find some trauma counseling, authentic education, shelter and a non-dependent, self-reliant, skills-transfer way to help these children – now young men, move forward.
Thanks all who wrote to Judge Arterton. A good day for justice and decency today! But you all know how Haiti victories are always bittersweet. Triumph trickled in with tears. In the car going home I started thinking how we met the children tonight at a well-appointed hotel in New Haven to say chapo ba and toast their courage, let them know how we cared. Thanks much to the persons who made this encounter happen. The children were surrounded by wonderful US government folks there to protect them and help them navigate. There was heat, electricity, light, clean drinking water, furniture – comfort. I saw and smelled a buffet of good food when we met them. But tomorrow they're going back. They'll be in Haiti. Some, perhaps back in the streets with no roof over their heads. It's just so unfair, even surreal the disparity in living circumstances between the poor and this moment for them. What will it do to their minds? I think about it. But for this moment, right now, these vilely abused children know a group of people, far away and from every race, stood up for them, helped give them an international voice. Lifted the human dignity and honor pedophile Douglas Perltiz so abused, destroyed and denigrated. Sad all around, but it was a good day for justice and decency today! We're motivated: One down, one thousand more in Haiti to go! Everyone, THANK YOU!
As we made our presentation before the Court during the sentencing, HLLN symbolically took back the use of the Venerable Pierre Toussaint's legacy to give the Douglas Perlitz school in Haiti meaning. In open court, before Judge Arterton, we took the podium, to remind the world that Pierre Toussaint, the most venerated Black Catholic in the world was a Haitian who helped found the first orphanage in New York city for homeless boys, back when Black folks were still enslaved in the United States. Pierre Toussaint was a philanthropist who EARNED, through his own labor, the money he did his charitable works with. He was piety incarnate. He was humble, loving, patient, kind, generous, self-sacrificing. He lived the Gospel of Christ. Douglas Perliz named the school he used to abuse Haiti's homeless boys "Project Pierre Toussaint." Douglas Perlitz could have learned about charity and giving without-strings from Pierre Toussaint. We went before the judge to say this, take back the Venerable Pierre Toussaint's name, lift up his shining legacy and ask the judge to impose the maximum sentence to validate the children's dignity, assuage their soul-destroying wounds and send a deterrence message to other such predators in Haiti right now doing the same horrid deeds. During our address before the Court, in support of the Haiti abused children and on behalf of the Ezili Network and the Haiti and world community HLLN represents, we made the point that if the world is in need of what a "face of Christ" (as one supporter of Perlitz described him to be) really looks like, then Pierre Toussaint already showed us – and we lifted up a 10 X 17 picture of the Venerable Pierre Toussaint, to illustrate. Douglas Perlitz and his ilk "doing good,"€ using their false benevolence and Haiti's misery to rake-in the dollars in Haiti, right now, are nowhere near equal to the Catholic philanthropist and humanitarian, the Venerable Pierre Toussaint of Haiti.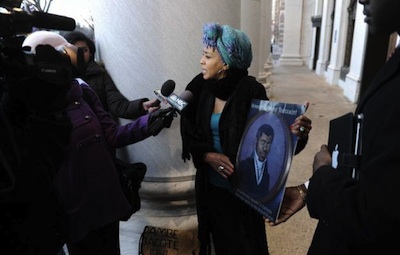 Human rights lawyer, Ezili Dantò, President of the Haitian Lawyers Leadership Network, talks to the media about Catholic philanthropist, Haitian charitable works icon, the Venerable Pierre Toussaint, whom Doug Perlitz named his school after, while outside the Richard C. Lee United States Courthouse in downtown New Haven, Conn. during a recess in the sentencing hearing for Perlitz on Tuesday December 21, 2010. Photo: Christian Abraham / Connecticut Post
Human rights lawyer, Ezili Dantò, of the Haitian Lawyers Leadership Network, leaves the Richard C. Lee United States Courthouse in downtown New Haven, Conn. during a break in the sentencing hearing for Douglas Perlitz on Tuesday December 21, 2010. Photo: Christian Abraham / Connecticut Post
Ezili Dantò of HLLN


www.ezilidanto.com


December 22, 2010
****************************
NGO, charity aid workers and UN peacekeepers sexual abuse of the poor and powerless in Haiti
***
Humanitarian aid workers and United Nation peacekeepers are sexually abusing small children in several war-ravaged and food-poor countries
*********************************************************
Forwarded by Ezili's Haitian Lawyers Leadership Network
*********************************************************
Sentencing for Christian Missionary Douglas Perlitz Haiti Child sex abuser

**********************
**********************
By Elizabeth Connors December 22, 2010, Fairfield Minuteman News Center
Surrounded by his victims, former supporters, and representatives from Haiti, Douglas Perlitz was sentenced on Tuesday to 19 years and seven months in prison for his sexual abuse of boys in Haiti, the maximum possible sentence in this case. U.S. District Judge Janet Bond Arterton also gave Perlitz supervised probation for 10 years after his release from prison, and various conditions that include participation in various alcohol, substance abuse and sex offense programs. Restitution will also be decided at a later date.
Perlitz, 40, a Fairfield University alumnus from the class of 1992, was the founder of Project Pierre Toussaint (PPT), a charity that provided food, clothing, shelter and schooling to homeless boys in Cap-Haitien, Haiti's second largest city, and of which many Fairfield County residents donated money and support to. Many local residents sat on the board of the project and organized fund raisers, even traveling to Haiti to see the progress Perlitz had made. After much investigation into allegations that he had been molesting the young students in exchange for money, Perlitz pleaded guilty earlier this year to a single charge of traveling to Haiti repeatedly between 2001 and 2008 and engaging in illicit sexual conduct. He has been in prison in Rhode Island since he was arrested in September 2009.
On Tuesday Perlitz, wearing a blue sweater, sat quietly in a room of about 130 people, listening to testimonies from the boys he raped, arguments between his lawyers and the prosecution, and other testimonies that conclude Perlitz sexually molested upwards of 25-30 boys, many of whom are still too ashamed to come forward.
U.S. Attorney Krishna Patel said that the boys were not just under Perlitz's care, but were also swayed by the clothes, food and money he gave them in exchange for sexual favors, especially valuable to a homeless child in Haiti, one of the world's poorest countries.
But perhaps the most telling were the victims"€™ own testimonies. Six boys, now in their early twenties, each came forward in front of their abuser and told their stories through a translator, moving one man in the gallery to tears. The boys were identified only by their initials, and spoke in detail of how Mr. Perlitz would force them to perform and receive sexual acts in exchange for money and gifts, warning each of them not to tell anyone, or they would be thrown out onto the streets. Many of the boys were just 11 years old when it began.
All boys were taken and coaxed into sleeping in Perlitz's bed, and many said they woke up to him molesting them in their sleep. Two boys said Perlitz brought them to a hotel or bar where he bought him alcohol before bringing him back to his house, and another said that when he resisted, Perlitz showed him on his computer just how much money he was spending on the students of PPT. All of them said they told him "no"€ or said they felt uncomfortable. They didn"€™t talk about it with each other and were ashamed, embarrassed, or even scared of Perlitz's power to throw them on the streets.
One boy with the initials L.M. said Perlitz told him that if he told anyone it he would close down the village, leaving the students without a home. "It's not easy to live in Haiti,"€ said L.M. through a translator, who briefly left Haiti after being threatened by officers who were worried money for the village would be cut off.
"Douglas always tried to control the kids,"€ said Margaret Joseph, a former social worker at PPT who convinced the boys to come forward.
Ezili Dantò, president of the Haitian Lawyers Leadership Network called for the maximum sentence to be given, saying that this case will send a message and that the ruling could become an "international deterrent."€
"He stole their innocence, stole their childhood, and shredded their soul,"€ said Dantò.
Meanwhile, Perlitz faced forward with a blank look on his face, but was constantly shifting his body and his gaze.
When concluding their argument, Perlitz's defense cited 125 other PPT employees and students who were not molested, a document put out last week alleging that Perlitz himself was sexually abused in college by an unnamed Fairfield University priest who acted as a mentor, and Perlitz's history of community service in his younger years.
"The worst you can say about him is that for 12 years he took people who were, as your Honor said, lower than dirt, and lifted them up,"€ said Perlitz's lawyer, William Dow III, a statement that brought gasps and whispers throughout the courtroom.
Patel of the prosecution countered, "They are not children who are below dirt,"€ and commended them on their strength in coming forward and the great risks involved. She pointed to forensic evidence that showed at least 16 boys were molested, over three times the number needed for an extra enhancement to apply. A psych report she said, notes that Perlitz is a narcissist.
"This is not a man who gets any more credit for good deeds,"€ Patel said, later adding, "He is clearly a danger to the world's children."€ Her impassioned speech garnered a some applause from the room.
Finally, it was Perlitz's turn to speak. With a slow and shaky voice he admitted to engaging in immoral and sexual conduct of students in his care, accepting whatever punishment was to be given to him. He apologized to donors, family and friends, but mostly to the students.
"Even though deceit was part of my life for a long time, what I say now is the truth,"€ he said.
Then, with a translator addressing the court in English, Perlitz turned towards the students and read an apology in their native Creole. He asked for forgiveness from Haiti and its people. He told his victims that it torments him every day because although he thought about leaving Haiti he never did. "I wasn"€™t thinking about you,"€ he said.
But his speech was not enough to convince some, as a black man with an accent cut him off shouting, "How many did you rape?"€
Perlitz wavered, then continued, asking once more for forgiveness from everyone, including the former supporters and the hundreds of Connecticut residents who donated their money and efforts. Turning to the judge he said, "I ask to be sentenced for the darkness of my sins, but your Honor, I hope you can see the light too."€
After a recess, Judge Arterton came back with her decision to sentence Perlitz to the maximum, nearly 20 years in prison, with additional conditions. She believes he is in danger of repeating his offenses, calling Perlitz someone who abused his position in the "worst kind of way."€
Said Judge Arterton, "If one digs a well to supply water to those who have never had water, and then that person poisons the water, was building that well a good deed?"€
**********************
NEW HAVEN — It's a story filled with chapters on hope, dark desires, courage and persistence.
On Tuesday, U.S. District Judge Janet Bond Arterton wrote another one — on justice — sentencing Douglas Perlitz, the humanitarian turned sex predator, to 19 years and seven months in federal prison for his systematic and prolonged abuse of at least 16 homeless boys in a program he created to shelter, feed and educate them in Haiti.
"Our country places a high value on defending citizens' individual dignity and protecting every child," Arterton told Perlitz, 40, Fairfield University's 2002 commencement speaker. "This was a horrific crime … In a country that's very hard to live in; he took away the childhood they were never able to have… ."
But Arterton didn't stop there. She looked directly at Perlitz and told him: "Survivors of sexual abuse have unique, long-lasting permanent injuries — for these boys that's on top of being poor, hungry and homeless in Haiti. Now they have fingers pointed at them in derision."
Arterton set a March 7 hearing on the restitution that Perlitz must provide to help his victims.
She feared he might again "injure and abuse" children so she placed him on 10 years of U.S. Probation Department supervision following his release from prison and banned him from associating with children under 18. She ordered him to enter a sexual abuse counseling program during his confinement, which she recommended take place in the U.S. Bureau of Prisons' medical facility in Devens, Mass.
"This is a vindication of those victimized by this atrocity as well as those who are not yet known," said Joseph M. Champagne, the mayor of South Toms River, N.J., and a member of the Haitian Lawyers Leadership Network, several of whom attended the sentencing. "Now everyone knows that if you rape and sodomize someone in some other country you will be brought to the bar of justice."
Before pronouncing Perlitz's sentence, Arterton listened for nearly seven hours to the story of Project Pierre Toussaint.
It was a program of hope for Haitian street boys. It started in a parking lot in Cap-Haitien, the country's second-largest city, whose streets are filled with at least 10,000 abandoned children begging daily for food, clothing and medicine and money and sleeping in courtyards, on roofs, in woods. It grew into an intake center, an enclosed residential school on 10 acres of land and group homes for promising high school students. It was funded with millions of dollars raised by wealthy Fairfield and Westchester county Catholics.
The program began crumbling in 2007 when students went public with accounts of being abused by Perlitz. When funding dried up, the program shut down during the summer of 2009.
On Tuesday, six former students, all victims of Perlitz's abuse wrote the chapter on courage by describing their years of sexual abuse to the judge. The boys, speaking in their native Creole, which was translated to the judge, related how they would be invited to Perlitz's home, sometimes on their birthday or just before a holiday, sometimes after school on Friday afternoons and sometime when they became disruptive in school.
There the nightmarish acts would occur. Some would awaken to his abusing him, others would be asked to perform sex with him, and some would consent to demands for fondling and for being fondled. To resist could mean expulsion from the program, they said.
Just how many were abused is unknown. The prosecution said they could document 16 but believe there were more.
One boy told how he and others would hear Perlitz's footsteps in their dormitory room and feign sleeping or look for a hiding place "so he wouldn't sleep with us."
"He never made love to us, he made hate," he said.
That boy's descriptive story of being sexually abused over five years struck an emotional chord with Cyrus Sibert, the Haitian journalist, the first to report on the scandal in 2007.
Emotion overcame Sibert, who spent the last three years counseling and helping the victims. He briefly left the courtroom in the company of Paul Kendrick, an advocate for sexual abuse victims and the Rev. Bob Hoatson, a Catholic priest who operates the Road to Recovery Inc., a New Jersey program that offers help to victims of clergy sexual abuse.
There's the chapter on persistence written by Assistant U.S. Attorneys Krishna Patel, Stephen Reynolds and Richard Schechter. When the original indictment was dismissed in Connecticut after Arterton decided there was no evidence a crime was committed here, prosecutors formulated a plan to charge Perlitz in New York, California, Colorado and Florida — every state where Perlitz had flown to Haiti with the intention of engaging in sex with one of students shortly thereafter.
They filed the first in Brooklyn federal court, which required Perlitz to be moved to the federal detention center there, which has a number of Haitians in its population. Perlitz never went there. Instead he and his lawyers, David Grudberg and William F. Dow III quickly negotiated a guilty plea to one charge of traveling from New York to Haiti to have sex with an underage boy.
Patel rebutted one letter from a Perlitz supporter claiming his program took children "lower than dirt and the scourges of society and lifted them up."
"These are not children below dirt," she said. "These are children who showed extraordinary courage … He preyed on clients he was supposed to protect and nurture … All Perlitz did was harm that country and harm their children."
Perlitz, 40, dressed in a dark blue sweater covering a white shirt and tie over gray pants, spent nearly 20 minutes apologizing. He admitted living a double life until his guilty plea in August.
Then he turned to the rows of the six boys and spoke to them in Creole asking them and "all of Haiti to forgive me."
"At the time I had contact with you I wasn't thinking about you or your feeling about how my actions would affect you. No, I was too stingy."
He said he is tormented every day, thinking of how things would be different if he left Haiti. He said he feared that "Project Pierre Toussaint would fall apart … Now I am going to prison because of what I did … I can say I deserve this."
After the sentencing hope rose again.
Al Lackey, president of Kids Alive International, an Indiana charity which operates in Cap-Haitien said his organization is close to finalizing a deal with Fairfield University and the Order of Malta, a Roman Catholic charity to provide help for all of the 82 residential students.
"We've got commitments to get these six victims and 34 others into two trade schools next month," said Lackey, who attended the hearing. "Some will need counseling, others just friends and mentors. What I can assure you is we will be part of these kids for the rest of their lives."
***************
UPDATE
*************
Perlitz, Fairfield U., others sued again by Haitian sex victims
Michael P. Mayko, Staff Writer
Published 11:30 p.m., Wednesday, May 18, 2011 | Source: CT Post
Another federal lawsuit has been filed charging Douglas Perlitz with sexually abusing two Haitian boys in a humanitarian program he helped create to better their life in that destitute country.
In the civil lawsuit filed Wednesday, the boys, Denis Mesamour and Thony Vall, each are seeking more than $20 million in damages from Perlitz; the Rev. Paul E. Carrier and his Society of Jesus Jesuit Order; Fairfield University; Hope Carter, a New Canaan philanthropist; and the Haiti Fund, which helped fund Perlitz's Project Pierre Toussaint.
The lawsuit accuses those parties of negligence in hiring, supervising or directing Perlitz and breaching their fiduciary duties to the children. It also seeks damages from 12 other unidentified individuals for their alleged roles in that process.
Only Perlitz is accused of sexual assault. None of the other defendants has been charged with any criminal wrongdoing or accused of participating in the alleged assaults.
The suit filed by Mitchell Garabedian, a Boston lawyer who specializes in sexual cases against the clergy, is the second of what are expected to be at least 20 cases filed in Connecticut's federal court on behalf of former students who claim they were abused by Perlitz. This case has been assigned to Chief U.S. District Judge Alvin Thompson in Hartford.
Eventually it is expected that all of the cases will be consolidated and assigned to one judge in order to expedite and streamline the judicial process.
Perlitz, who with funding from the Order of Malta and donations funneled through the Haiti Fund, created and ran Project Pierre Toussaint, a program to clothe, feed, shelter and educate abandoned boys living on the streets of Cap-Haitien, Haiti's second-largest city.
In December, Perlitz was sentenced by U.S. District Judge Janet Bond Arterton to 19 years and seven months in prison after he admitted traveling from the U.S. to Haiti to engage in sexual conduct with one boy. The plea was reached as part of an agreement to end an indictment that would have charged him with assaulting 23 different students.
Six of his former students were flown to the U.S. from Haiti and during the sentencing described the sexual abuse and the impact on them.
Like a similar suit filed in April on behalf of Joseph Jean Charles, this suit alleges Carrier, who served as president of the Haiti Fund and Perlitz's mentor; his Society of Jesus Order; the Haiti Fund; Carter, a Haiti Fund board member; and five unnamed individuals failed to properly hire, supervise and direct Perlitz.
******
Perlitz victim sues Fr. Carrier and Fairfield University
One of the Haitian victims of Douglas Perlitz has filed a $20 million civil law suit against Perlitz, and not only against Perlitz, but also against Father Paul Carrier, the priest who was instrumental in raising millions of dollars to sustain the school that Perlitz ran in Haiti, against Fairfield University which employed Father Carrier for many years, and against the New England Order of the Society of Jesus, in other words the Jesuit Order that runs Fairfield University. The suit also names The Haiti Fund, the umbrella charity for the Haitian school, Hope Carter, who was a member of the Board of Directors of the Haiti Fund, and a dozen others, who are identified only as John Doe One through John Doe Twelve.
The attorney for the victim is Mitchell Garabedian, the lead attorney in obtaining an $85 million settlement against the Archdiocese of Boston for 500 victims of abuse by priests, and the lead attorney in obtaining a $10 million settlement against ex-priest John Geoghan and the Archdiocese of Boston on behalf of 87 other victims of sexual abuse.
In the lawsuit filed April 18 in the Untied States District Court, District of Connecticut, on behalf of Joseph Jean-Charles who was 15 at the time he was abused by Perlitz, but has recently turned 21, Attorney Garabedian alleges that Father Carrier, Fairfield University and the other defendants were negligent in their supervision of Perlitz to the point of aiding and abetting him in his abuse of the victim.
The suit says that Father Paul Carrier, Carter and John Does One through Five traveled frequently to Haiti and it alleges that they "became aware"€ that Perlitz was engaging in conduct that endangered minor boys and, in spite of this, they "aided and abetted"€ Perlitz.
The suit also accuses Fairfield University, and the Jesuit Order, as well as other defendants, of being negligent in their supervision of Father Paul Carrier, saying that they "knew or should have known,"€ not only that Perlitz would interact with minors, but also that Carrier's "intentional and negligent conduct"€ could result in severe mental and emotional suffering by the Plaintiff, Jean-Charles
The suit alleges that all the defendants sponsored and promoted Project Pierre Toussaint, which they knew was providing services to extremely vulnerable minors in the Republic of Haiti, yet they breached their fiduciary responsibility to protect these minors.
Perlitz founded Project Pierre Toussaint, a school and residence for street children in Cap Haitien, Haiti with money from the Knights of Malta in 1997. The organization was sustained by money that often was raised at Sunday Mass at the University Chapel where Carrier, a charismatic speaker, was usually the celebrant. Money was also raised by various fundraisers. The over-all fund-raising organization was called The Haiti Fund.
After Perlitz was indicted, Fairfield University hired an attorney to investigate where all the money had gone and concluded that it could not account for over $100,000 of that money. It said it would institute tighter controls.
According to the United State's Attorney's office for the District of Connecticut, Perlitz's crimes were "particularly heinous, as he not only victimized children but did so by using his position of power to take advantage of vulnerable boys who likely would be out on the street if they didn"€™t comply with his sexual demands."€
The U. S. Attorney commended several of the boys who came to the sentencing hearing for Perlitz last December. Perlitz received the maximum sentence of 19 and a half years. He admitted to traveling from U.S. airports to Haiti for the purpose of having sex with minors and he admitted to having sex with eight minor victims.
A federal indictment accused Perlitz of 19 counts of having sex with 18 different minors. Garabedian told the Minuteman that he is investigating the complaints of 21 others besides Joseph Jean-Charles. He is also investigating the identity of the John Does One through Twelve, he said. The complaint asks for a trial by jury.