Poetry CDs, books, pamphlets, DVDs of Performances, T-shirts, Posters, Art-with-the Ancestors Dance videos and The To-Tell-The- Truth-About-Haiti Documentaries
***
Buy special ZiliDesigns, Free Haiti-"art-with-soul" merchandise, including posters, T-shirts, books, and videos
Walk In Honor & Respect – Onè e Respè
GET THE OFFICIAL ZILI DESIGNS T-SHIRTS
---
---
T-shirt 1:
Freedom Shirt, Black $25.00

T-shirt 2: Ancestral Honor & Respect, White – $25.00
T-shirt 3 :
Standing on Truth, Black $25.00

T-shirt 4: Sold-out
***
Buy the Free Haiti Posters
[11×17 glossy]
| | | |
| --- | --- | --- |
| FreeHaiti Blue Water Poster: $35.00 | | Release the Ogou & Dantò Archetypes – $25.00 |
| | | |
---
Coming Soon…
---
Get A Limited Autographed "Three Èzili Principles" Poster!
Watch Instant Stream Videos
Poetry CDs, books, pamphlets, DVDs of Performances, Art-with-the Ancestors Dance videos and The To-Tell-The- Truth-About-Haiti Documentaries
| | | |
| --- | --- | --- |
| Stream and watch an Èzili archived 2001 theatrical performance instantly for free with a $35.00 purchase of the new e-book of the theatrical release: Red, Black & Moonlight: Between Falling and Hitting the Ground | | Vodun Woman: A Performance Poetry Collection by Èzili Dantò of HLLN – $20.00 for e-book |
| | | |
Limited Edition signed poster-[11×17 glossy]:
Three Èzili Dantò Principles For a (Real) New World
You can now get the exclusive autographed "Three Èzili Principles" poster from the ZiliDesigns series, for a limited time only. Your poster will be signed by Èzili Dantò of HLLN, and these signed posters will become collectors' items. When you order your poster, be sure to specify the name that the autograph should be dedicated to.
Three Èzili Dantò Principles For a (Real) New World – $35.00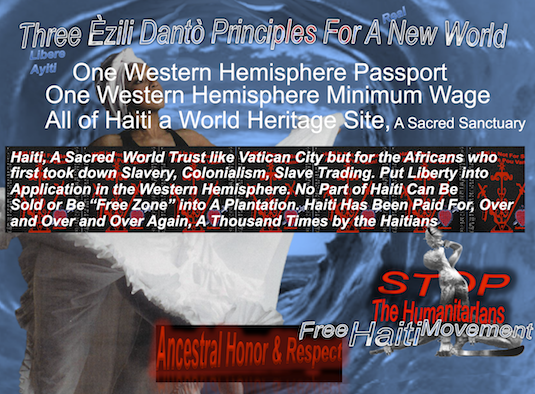 ---
---